If you've lost your aunt, or know someone that has lost theirs, it can be a really hard time. Our aunties are special and important people in our lives, so losing one is a huge blow.
But finding comfort or some understanding after losing someone that close to us is also incredibly hard.
Where do you turn to to try and feel better? And what do you say to someone who's aunt has passed away?
Neither of those are easy. But finding comfort in words can help.
The quotes and words of sympathy here may ease some of the pain you or another is feeling after an aunt has passed away.
So if you're struggling with what to say then try these sympathy messages and quotes for the loss of an aunt.
Loss of Aunt Quotes
I was so sorry to hear of your aunts passing. She was such a lovely and warm woman who will be missed greatly. My condolences
Hearing about the passing of your aunt was a real shock. I know you were very close to her and have my most sincere sympathy
Your auntie was one of the best. No one else came close. So to lose her is just gut wrenching. The hole she leaves behind in so many lives will never be filled, she was just that special. My condolences
The loss of an aunt is always really tough, even more so when they were such an important part of your life. If you need someone to talk to then I can be there. My condolences
If you need someone to talk to or a friend to listen then please turn to me. My heartfelt condolences for your loss
There will be a huge hole left by your aunt. She was a special woman and will be missed by so many. My sincerest sympathy
I can't begin to comprehend what you're having to go through but I wanted to reach out and offer my condolences for a truly awful loss
You will be in my thoughts as you cope with the tragedy of losing your aunt. My most heartfelt condolences
We are blessed with people who touch our lives in ways we can barely understand. Your aunt was so important you and I know her loss will be extremely difficult. Please accept my condolences
Sending my love and thoughts to you during this terrible time. I hope you can find some strength. I'm so sorry for the loss of your aunt
Please know that I will be there for you whatever it is you need. I understand how hard this must be and want to offer anything I can do to help
Your aunt will never be truly forgotten. She did so much for everyone who knew her and that incredible presence and generosity will be missed. My sympathy for your loss
You and your aunt will both be in my prayers. My warmest condolences for a tragic loss
Sending warm thoughts and my condolences for your passed aunt. Losing someone that special to you is utterly heartbreaking and I am so deeply sorry
I know nothing I can say will help ease the pain but I and so many others are thinking if you during this time. Please reach out to any of us if you need some support or comfort
Your aunt was a one in a million type of person. She will leave behind such an amazing legacy but it will be impossible to replace her. Sending my love to you at this time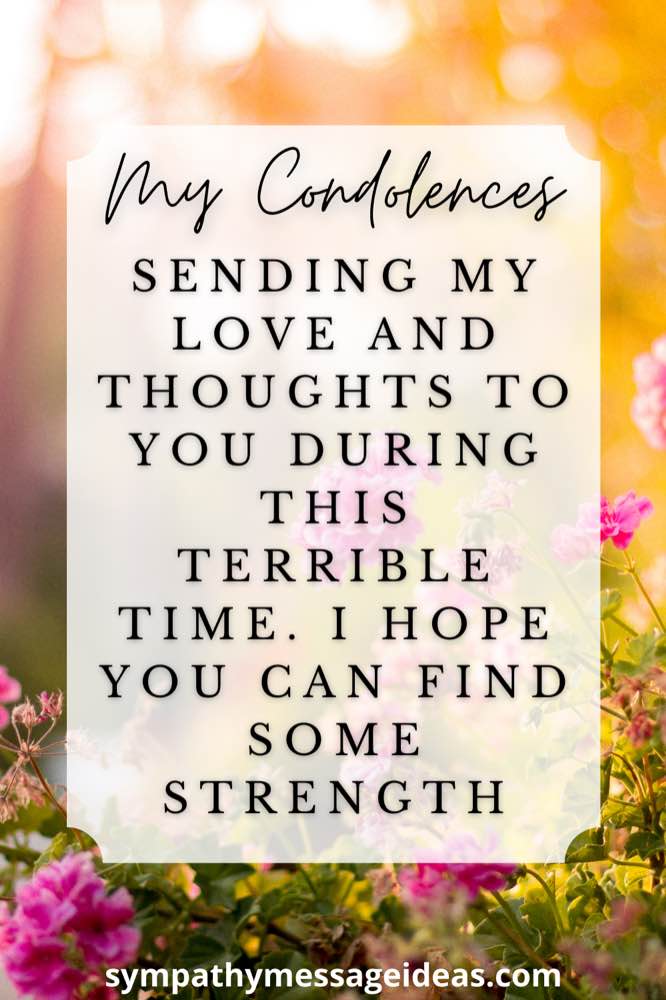 SEE MORE: Sympathy Messages for Loss of Uncle
Condolences for the Loss of an Aunt
The memory of your aunt will live on long after her and remain in our hearts forever. We will raise our glass to one amazing woman. Our sympathy and condolences
If you can try to think of all the good times you had with your aunt. Those memories can hopefully offer some comfort amongst the pain
My sympathies for the loss of your aunt. I am only a phone call away if there is anything you need or want. Don't hesitate to get in touch
Your aunt will be deeply missed. She was a special woman who brought a light to this world. You have my sympathy for a terrible loss
Take strength from friends and family and try to find comfort in the smallest things. You have my sympathy and my prayers
My condolences and thoughts are with you whilst you deal with the loss of your aunt. I know she was so beloved to you and I send my love for you to find some peace and comfort
Our aunties can be some of the most important people we have in our lives. So whenever we lose one it is always such a time of pain. You will be in my thoughts as you grieve
Your aunt was unique and there will never be anyone like her again. She was irreplaceable and we will honor her legacy and keep her memory alive. All my love and sympathy
I am deeply sorry for the passing of your aunt. I'm here for you no matter what
Your aunt was a true friend to us and her passing has been a real shock. We send you our condolences and love to get through how painful this must be
We are sending this as a message of support but also to offer any help you may need. Our condolences
I was so saddened to learn of ______'s passing. She was a wonderful woman and had such a warm spirit. I hope you're doing alright and not overwhelmed
SEE MORE: Sympathy Messages for Loss of Niece
Words of Sympathy for Loss of Aunt
We mourn the loss of a great woman. Your aunt will always be in our hearts. My condolences
Sending love and thoughts after the loss of your auntie. I hope you can find the necessary strength to get through such a trying period
Find the love and support of your family to help through a terrible loss like this. My sympathy
My most heartfelt condolences for your loss. I understand how much you will miss your aunt and wanted to send a little note saying how sorry I was to learn of her passing
Sending sympathy and condolences for the untimely passing of your aunt. We will only have good memories of her
If you wanted to talk or someone to listen then I'm only ever a phone call away. Don't think twice. I'm here for you
I offer my sympathy and condolences for your deceased aunt. She was unlike anyone I've known and genuinely the nicest woman you could hope to meet
Your aunt was generous and kind like no one else. We are all worse off for no longer having her in our lives. My condolences
You will be in my prayers and thoughts after losing someone so special. I'm so sorry
Your aunt will be missed greatly and her passing has left us all in shock. All we can do is offer our sympathy and support as you mourn her
The impact your aunt had on everyone around her means we shall never forget her. She brought such joy to everyone. My sympathy for your loss
My condolences. Your aunt leaves behind so many fantastic memories. I hope you can find comfort in them in the coming weeks and months
Hopefully the example messages here will have helped with inspiring and helping you with writing your condolences for the loss of an aunt.
Try to reach out and offer your support to whoever it is that has lost their auntie. It may not feel like a lot but a few kind words of comfort can go a long way for those grieving.