When an acquaintance or someone we don't know well suffers a loss it can be hard to know what to say to them. When reaching out to friends and family it's a little more straightforward as your relationship is stronger.
But with someone you don't know well, or an acquaintance, your relationship will be very limited. And so knowing how to express your condolences in an appropriate way when you aren't close and don't really know them becomes tricky.
Should you say anything? Do you send a card or flowers/gift? What sort of words are suitable?
It's understandable to find yourself a bit lost and unsure.
So if you're struggling then try these example condolences messages for an acquaintance or stranger.
Should I Send Condolences to an Acquaintance?
Yes. When it's a close friend or relative then it's a good idea to try and send your condolences or reach out as quickly as possible. With an acquaintance or someone you don't know well there is less of a rush and it's perfectly acceptable to send your condolences a little later or even after the funeral.
What do you Write in a Sympathy Card for Someone you don't Know Well?
Your condolences to an acquaintance should be similar to those you would say or write to someone close to you. However, you should avoid going over the top or being too sentimental as you don't know them as well. Stick to words and a message that isn't too personal.
However, if the deceased was someone you were close to but never met their family, for example, then you may want to consider including a story or anecdote of the deceased on top of your sympathy message.
I'm very sorry for your loss
I was deeply sorry to learn of your loss
My condolences and sympathy during this difficult time
You are in my thoughts and prayers
Sending my sincere condolences
Wishing you strength and support for the coming days
My most heartfelt condolences for your tragic loss
May you find comfort from the love of your family and friends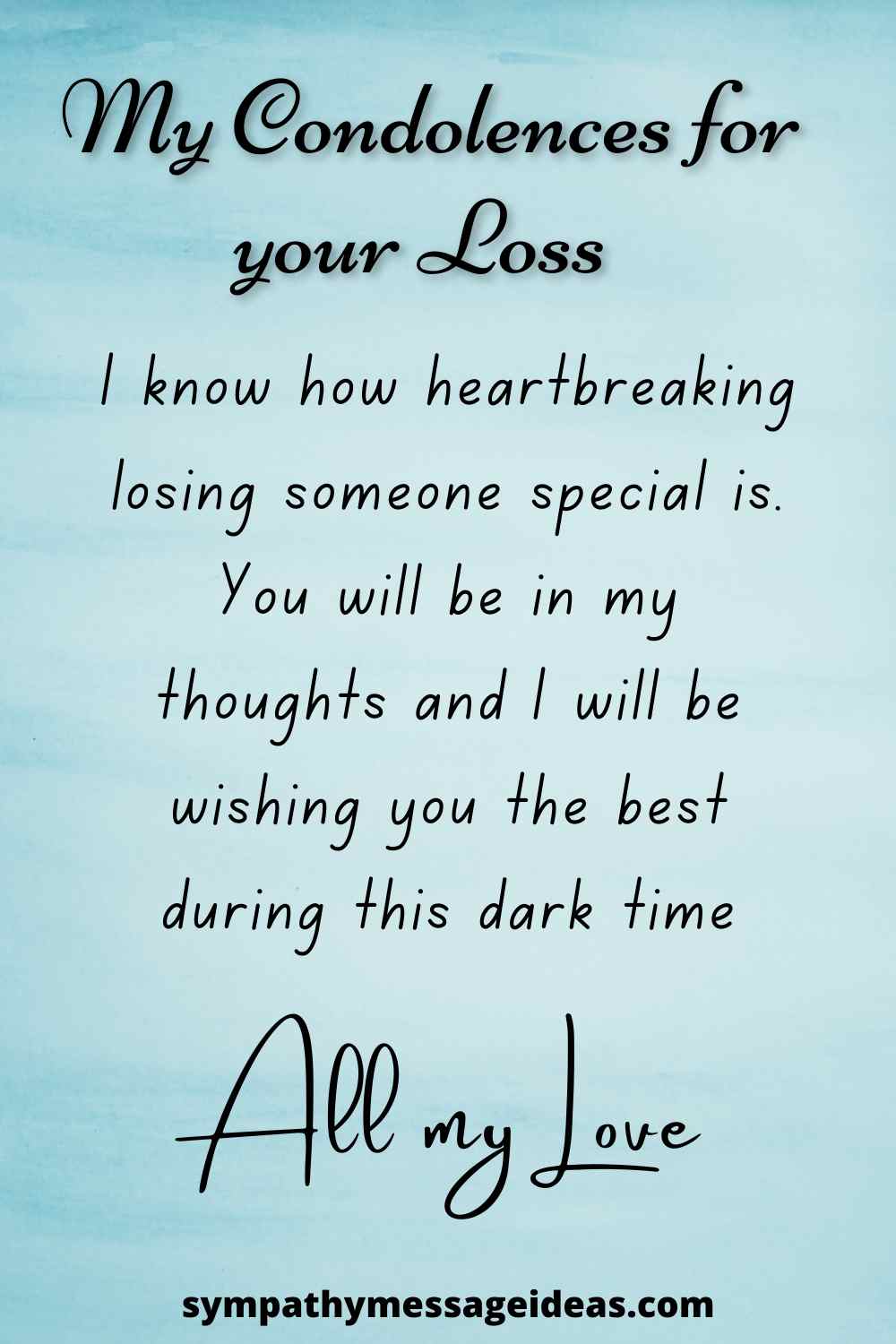 SEE MORE: What to Say Instead of 'With Deepest Sympathy'
To a Family you Never Met
I was lucky enough to know your dad for many years and although we never met I wanted to reach out to say how sorry I am for your loss. He was a great guy and will be sorely missed
Your mom and I were colleagues and became a really good friend to me. We would always chat on our coffee breaks and moan about our boss! I'm really going to miss her
Having your husband and father as an employee was a gift. His hard work and dedication were second to none and he always looked after anyone struggling or that needed help. Everyone at the office was so deeply shocked when he passed away and we are all sending our condolences
I know we don't know each other very well but your daughter was an incredibly gifted student who was a pleasure to teach. I know she will be dearly missed
What do you Write in a Sympathy Card for a Stranger?
When it's a stranger you haven't met or don't know at all then what you write in a card or say to them should be straightforward. As you don't know them at all stick to non-personal, common sentiments to express your sadness for their loss.
We are sorry for your loss
With sympathy and my best wishes
In memory of [name]
I will be thinking of and praying for you
Hoping you can find comfort amongst the pain
Sending our sympathy for your loss
May [name] rest in peace
My thoughts are with you. May you find some peace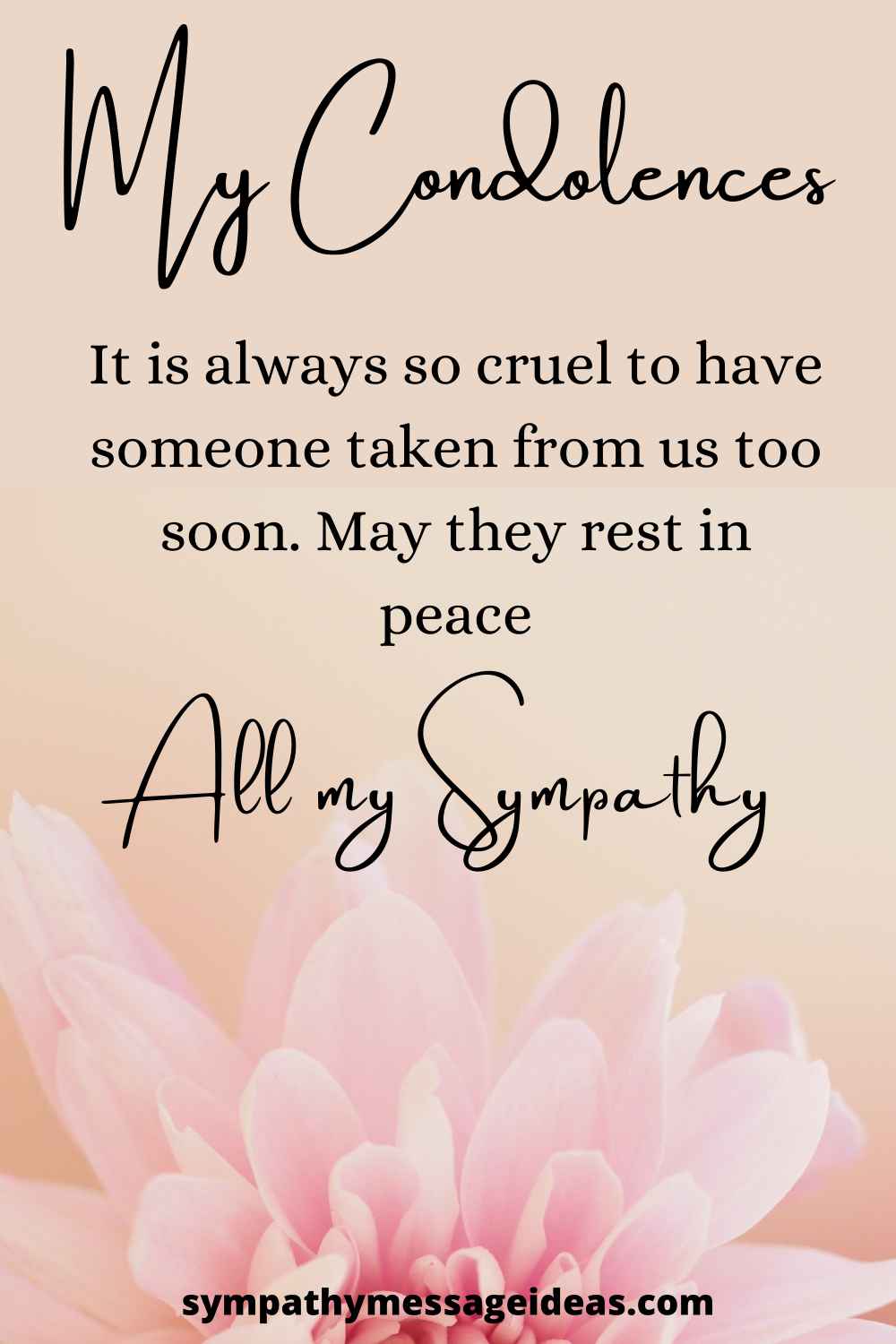 Condolence Messages for Acquaintances
My heart is breaking for you. What a terrible loss. Please accept my condolences
I can't begin to understand how awful this is for you but I wish to send my sympathy and love
My deepest condolences for your loss of and I hope you can find some peace
I know we don't know each other well but I wanted to send a brief note to say I how sorry I was to learn of your loss
We may not be well acquainted but I know how heartbreaking losing someone special is. You will be in my thoughts and I will be wishing you the best during this dark time
Even though we aren't very close I can be there to help if there is anything you need. My condolences
Sending my sincerest sympathy for your loss. May [name of the deceased] rest in peace
We may not have ever gotten to know each other but your father/mother was a wonderful person who meant the world to me. I am so very sorry to hear of their passing
The memory of [name of deceased] shall never be forgotten. They were a truly special person who will be missed dearly by so many
My most heartfelt condolences for your loss. It is always so cruel to have someone taken from us too soon
To lose someone so special to you is tragic and though we may not be close friends I understand how tough this must be for you. I hope you find comfort and strength in your friends and family
With all my sympathy I wish you to get through such a painful loss
As a family we wanted to express our condolences and our sympathy for your loss. We may not be close but we know how awful it is losing a family member
Whilst we haven't gotten to know one another very well yet I wanted to offer a friendly ear if you ever needed to talk. I know how difficult the grief can be after losing someone and talking can help
Hold on to the memories of those no longer with you. Keep them in your heart and that person will never truly be gone
My deepest sympathies to you and your family. May you support each other through what must be a tremendously difficult time
Knowing what to say to a stranger or acquaintance when they've experienced a bereavement is very tricky. So if you've felt unsure over how to approach it don't feel bad.
But hopefully the example sympathy messages and ideas of what to say provided here will have helped you find the right words. Remember that reaching out to say something is always going to be appreciated even if your words aren't perfect.
Keep that in mind and whatever you choose to write or say will be just fine.