The loss of a dog, like losing any pet, is completely heartbreaking. Dogs provide us with so much love and affection that when they finally leave us we are overcome with grief.
So if you know someone whose dog has died you will want to be there for them. But it can be hard to know what to say.
They will be grieving and mourning the loss of someone very special to them. So finding the right way to offer comfort is important to show you care and want to help.
If you are struggling then the following guide and examples of what to say when someone's dog dies should help you to be there for whoever has lost a beloved pet.
What to Say to Someone Whose Dog Died
What to Say in Person
If you can it's always preferable to be there in person for someone after they lose a pet. Offering your condolences and being there so they have support is going to make dealing with their grief easier. If you aren't sure what to say in person then the following examples should help:
I understand that nothing I say will be able to ease your pain but I want you to know I'm always here for you.
You will be in my thoughts and prayers. I'm so sorry for such a terrible loss.
You loved them with all your heart and sadly grief is the price we pay for that love. My condolences.
You gave [dogs name] a home and the love they needed. Hold on to those treasured memories and try to find comfort in them. I'm very sorry for your loss.
I know they were a true part of your family and they leave behind such a huge hole. You have my deepest sympathy.
I want to help in any way I can. I will be there for you and by your side the whole time.
May you find the strength to get through this tragic time. If you need a shoulder to cry on then let it be mine.
I will miss [dogs name] dearly. He/she was the kindest and most loyal companion and I'm so sorry he/she is gone.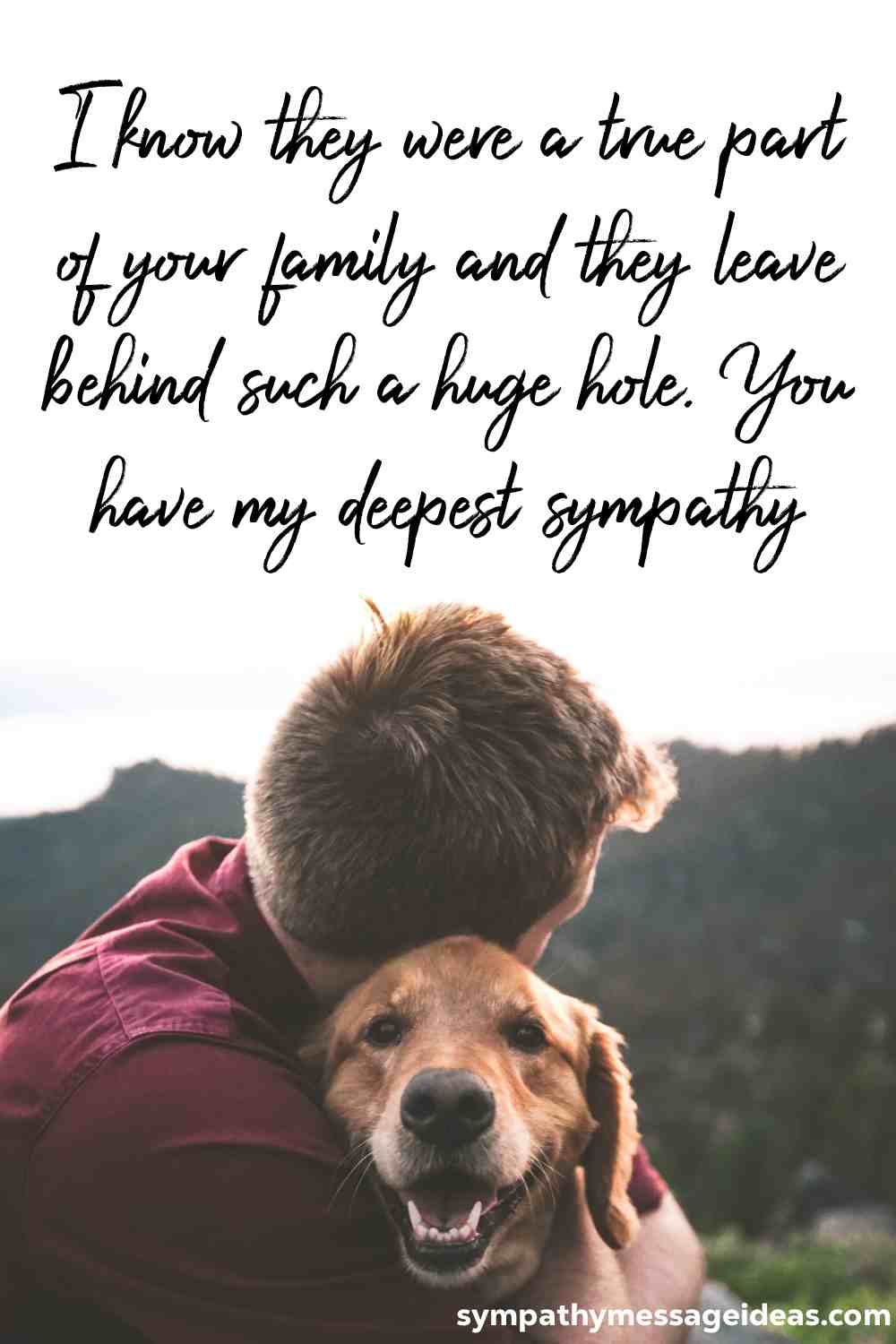 READ MORE: Touching Dog Loss Quotes
What to Write in a Card
If you are going to send a sympathy card with a message after the death of someone's dog then use these ideas of what to say to express your sadness and support:
Thinking of you and sending my support. With love and sympathy.
It is never long enough, is it? You will be in my thoughts and prayers.
I'm hoping you find comfort and peace during an incredibly difficult time.
You were blessed to find him/her and he/she will be so greatly missed.
Losing a member of your family is always devastating and your beloved [dogs name] was just that. My heartfelt sympathy for your loss.
If there is anything you need, from help to just talking, I'm here for you.
I'm so sorry you have lost your best friend. My condolences.
They were lucky to have you as an owner and you were lucky to have them.
READ MORE: Pet Condolence Messages
What NOT to Say
Making sure you avoid saying the wrong thing is equally as important as what you do say. It can be tricky navigating the right's and wrong's of talking to those grieving but the following examples should definitely not be said:
"It happened for a reason."
"It's for the best."
"You can always get another dog."
"Just give it time."
"Don't you think it's time you moved on."
"This was God's plan."
"They are in a better place now."
What NOT to do
As well as what you shouldn't say there are also a few things you should avoid doing:
Don't compare your own loss with theirs. Everyone feels and experiences grief differently and they may feel like you are making it about yourself or trying to lessen the pain they are feeling.
Don't avoid saying the deceased dogs name. They will want you to acknowledge the loss and part of that is talking about the dog they loved, including its name.
Don't use euphemisms about death. It's better to speak plainly and not dance around it. You shouldn't be thoughtless or harsh but you also shouldn't pretend like it hasn't happened or be afraid to fully confront it.
Don't try to get them to talk if they don't want to. Silence is an important part of grieving if they just want someone to be with them without saying anything then that's what you should do.
What Else Can You Do
Being there for whoever it is grieving a dog that passed away is the most important thing you can do. They will need love and support to get through a very difficult time.
Talk
Some people prefer to be alone after losing a beloved pet. But others need friends to talk to.
Having someone they can reminisce with, remember the good times and talk about how they're coping is going to be vital to the grieving process.
Listen
You should make sure you aren't talking too much though. Often those grieving need someone to listen as much as talk.
When dealing with losing someone special to you there can be a lot of mixed emotions. It helps to have someone who will just sit and listen as you try to make sense of what has happened.
So be that person for whoever is grieving the passing of their dog.
Offer Support
If you can then offering to help in some way is a gesture they will greatly appreciate. This could be something like cooking and bringing them food whilst they're grieving, doing the grocery shopping, helping with the memorial arrangements etc.
If you offer then this gives them the chance to accept if they want your help or decline if they aren't comfortable with sharing something that is very personal. But giving them that option is a touching way to really show your support.
You must be sure you can follow through with anything you offer though. Don't promise to help in some way then let them down.
Conclusion
Hopefully you now feel more prepared and ready with what to say to someone whose dog died. Losing a precious dog is always going to be so hard for the owner but having friends and family there for them will help to get them through the worst.