When sending a sympathy card it's always important to keep in mind the recipients faith. Religion is extremely important to many people and plays a huge part in both life and death.
So if you are sending a card or writing a message to someone after a loss you may want to use a Christian condolence messages. This is a few words that offer them sympathy for their loss but from the perspective of Christianity.
Many example condolence messages are non-religious. This is understandable because if you're in doubt about the recipients faith and how they would react to a religious quote, Bible verse etc. it's safer to use more neutral wording.
But if you're confident about the bereaved and their religion then a Christian sympathy message makes sense. They will appreciate your words that reflect their faith, be them from the Bible or your own.
So use these Christian condolences and offer your support to a Christian friend, family member or colleague who is mourning a loss.
Short Christian Condolence Messages
I'm deeply sorry for your loss. I'm praying God comforts you during this tragic time.
May God grant their soul eternity in peace as they ascend to Heaven y His side. My deepest sympathy.
Sending prayers and thoughts to you and your family. May God's presence and love help you through.
Though it may not comfort you now remember that your loved ones soul is in Heaven and you will see them again one day. May God's love bring you strength and hope.
We are praying for both you and your loved ones soul. God will be there for you.
I am here to pray with you if you need a friend. May God restore your spirit and bring you the peace you seek.
It was truly devastating to learn of your friends death. May their soul rest in peace for eternity.
May the love and hope your faith brings be something you can turn to during such an awful time.
Please accept my condolences for your loss. May the blessings of God find the deceaseds soul in Heaven.
Losing someone is always so hard but know that He has a greater plan. My heartfelt condolences for your loss.
Look to God for strength and have faith that He will bring you the love and comfort you need at a time like this. I will be praying for you.
As you say goodbye know that their soul will ascend to heaven and they will be with God.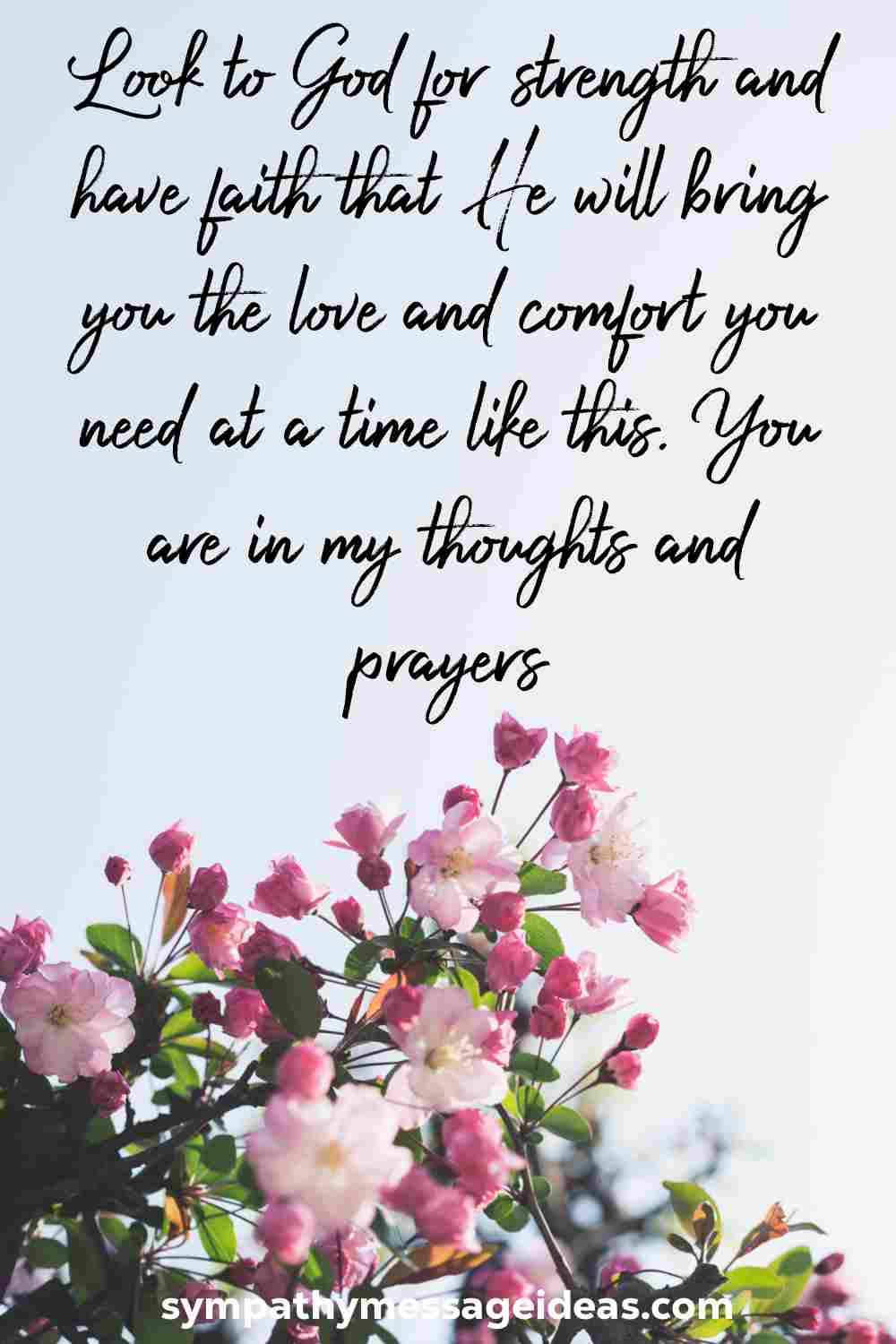 READ MORE: Sympathy Prayers: 23 Christian Ways to Pray for a Loss
Christian Bible Verses for Condolences
Bible quotes and verses are a great way to express your sympathy in a condolence card. These thoughtful verses should offer those grieving some comfort.
"For he will deliver the needy who cry out, the afflicted who have no one to help" – Psalms 72:12
"For the Lord comforts his people and will have compassion on his afflicted ones" – Isaiah 49:13
"Blessed are those who mourn, for they will be comforted" – Matthew 5:4
"So also you have sorrow now, but I will see you again, and your hearts will rejoice, and no one will take your joy from you" – John 16:22
"My comfort in my suffering is this: your promise preserves my life" – Psalms 119:50
"Even though I walk through the darkest valley, I will fear no evil, for you are with me; your rod and your staff, they comfort me" – Psalms 23:4
"If we live, we live for the Lord; and if we die, we die for the Lord. So, whether we live or die, we belong to the Lord" – Romans 14:8
"My flesh and my heart may fail, but God is the strength of my heart and my portion forever" – Psalms 73:26
"He will wipe every tear from their eyes. There will be no more death or mourning or crying or pain, for the old order of things has passed away" – Revelation 21:4
"Have I not commanded you? Be strong and courageous. Do not be afraid; do not be discouraged, for the LORD your God will be with you wherever you go" – Joshua 1:9
READ MORE: 18 Prayers for the Dead: Catholic & Christian Prayers for Loss
Christian Condolence Messages for Loss of a Friend
My heart goes out to you at this time. I am praying for the soul of your friend and sending my love.
Please accept my condolences. I only hope that my prayers will bring you some comfort and help the journey of your friends soul to heaven be quicker.
It may not mean much but we are sure he/she is watching over you from heaven. You are never truly alone. Our condolences.
My deepest condolences go out to you. May your friends soul rest in peace and you be able to find strength in the arms of God.
We are praying that in God you will find the courage to face the days ahead. May the love of friends, prayer and your faith bring you comfort and peace in such terrible circumstances. Our deepest sympathy for your loss.
May the Lord comfort and bless you as you mourn your departed friend. You are in my thoughts. I'm so very sorry.
Those who are asleep will awaken on the day the Lord comes for us all.
It is the memories of our friends who are no longer with us we can turn to and seek comfort in. May prayers bring you hope and sustain you as you grieve.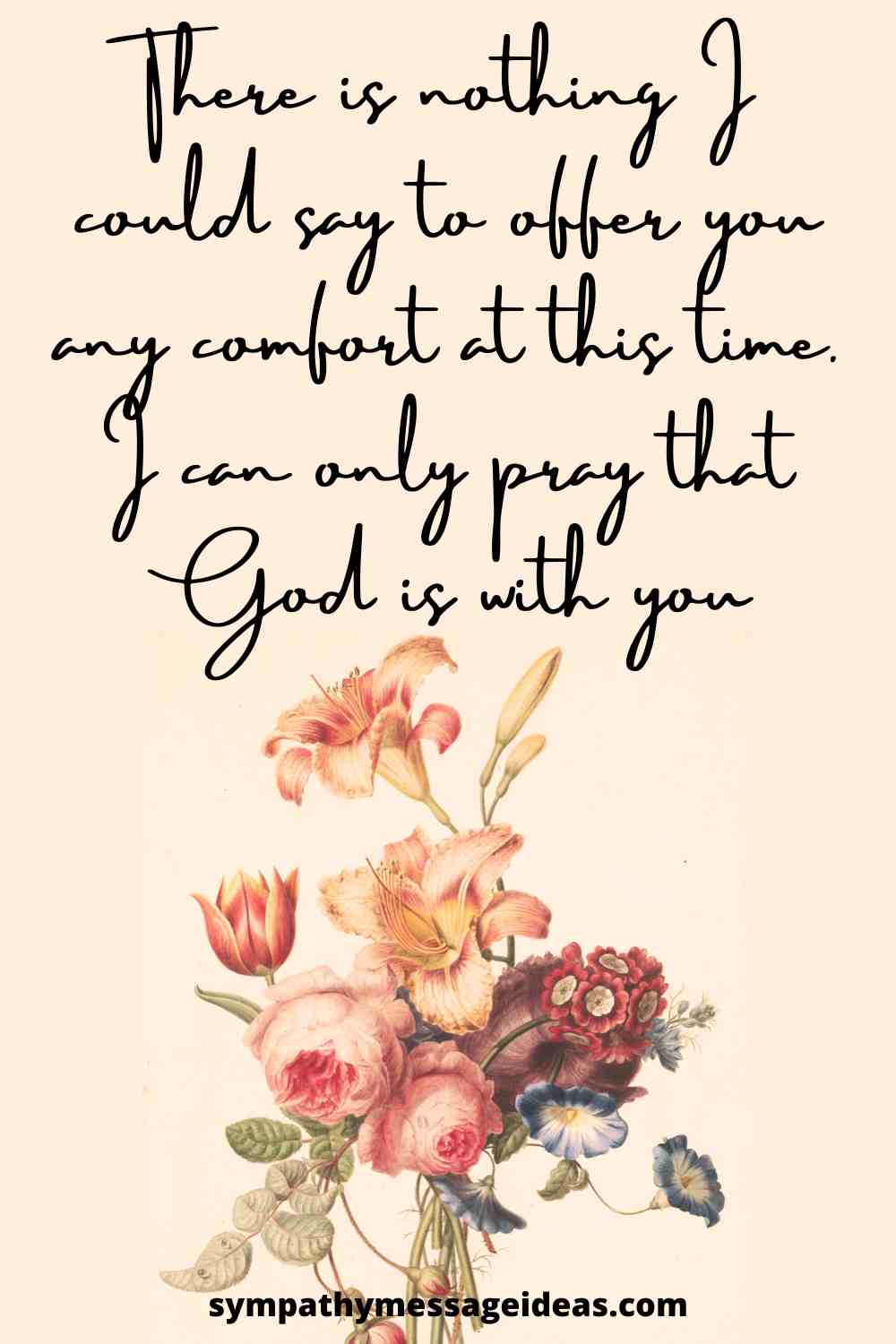 READ MORE: 41 Funeral Prayers: Moving Scripture for Services and Readings
Christian Condolence Messages for Loss of a Husband or Wife
Losing your spouse is indescribable and will shake anyones faith. But you can support them with a gift or card to show they aren't alone and have friends around them in such a difficult time.
You are in my thoughts and prayers. I am here for you if there is anything you need, be it help with chores or looking after the kids. May your husbands soul rest in peace.
Your wife will live on through the joy she bought to this world and the treasured memories you gave. May her soul rest in peace.
It is with such sadness we say goodbye to your husband. He was a man of honor and integrity who will never be forgotten. I hope that God will bring you courage and strength to get through what is a tragic loss.
My prayers are for you and your husbands soul. I was lucky to have known him and the happiness he brought to so many lives. May he rest in peace in heaven.
The Lord will bless your wife's spirit and take her in His arms as she ascends to Heaven. May we always remember her and the light she brought to our lives. My deepest condolences.
May you find strength in the Lord to get through the heartbreak of losing your husband. I will be praying and thinking of you.
Please accept my heartfelt sympathy for your loss. Nothing can hope to stop the pain but may God provide some comfort amongst the grief.
You are in my thoughts and my prayers. It will offer you little comfort but the whole church are praying for your wife's soul and to give you strength. Remember we are here for you.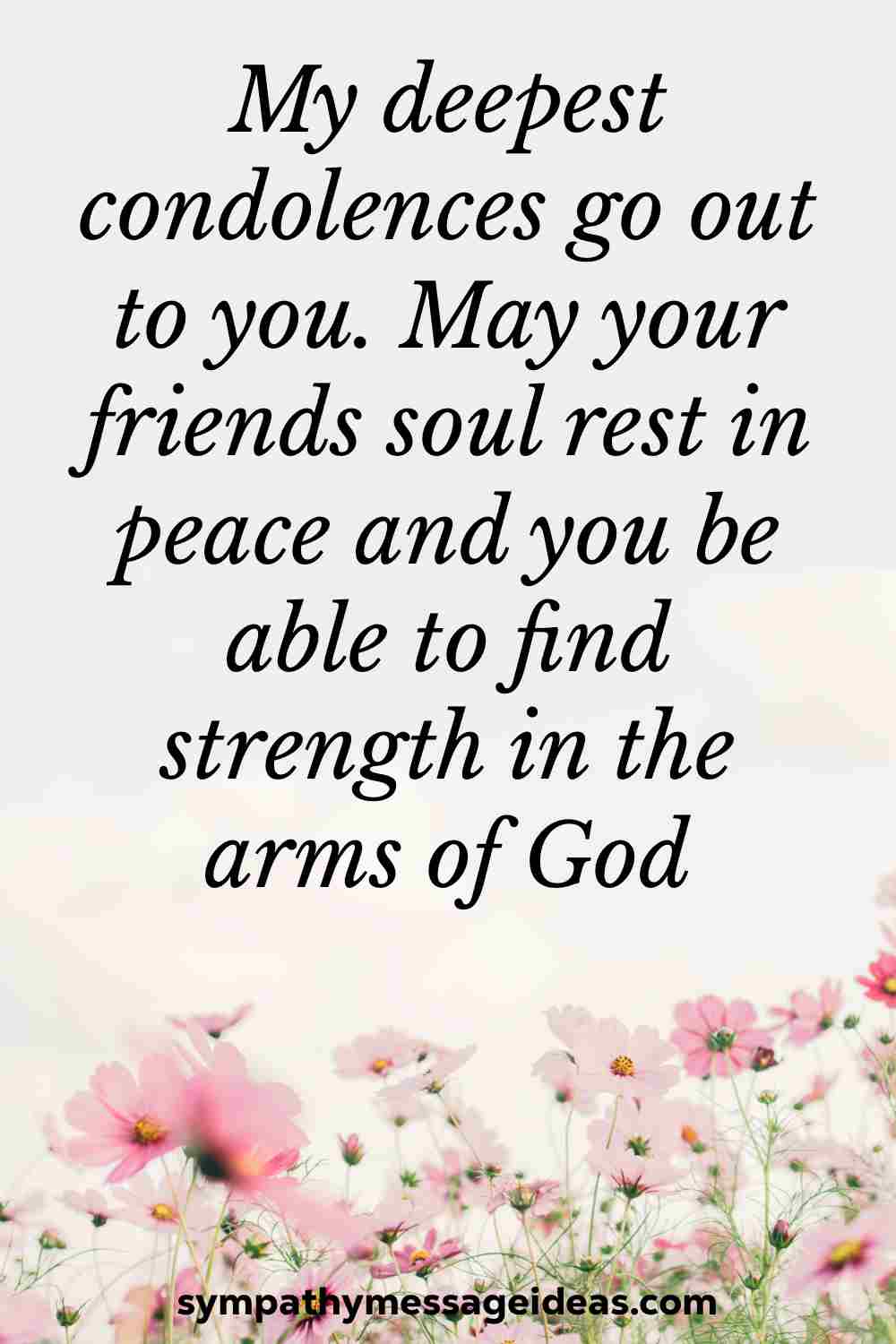 READ MORE: What to Say When Someone Dies: A Guide to the Best Words of Comfort
Christian Condolence Messages for Loss of a Mother or Father
Whilst there are no words to help ease the pain after losing a mother or father that doesn't mean you shouldn't reach out with your thoughts. Your support and knowing they aren't alone will give them some comfort as they mourn.
Your mother was a wonderful woman. I'm deeply sorry for your loss but I know that her soul will be resting in eternal peace in heaven.
May God lift your father up to Heaven and he rest for eternity in peace. He was a truly special man who will be missed greatly.
May angels lead your mom in to Heaven and she feel the fullness of God's love. I am praying for you during this testing time.
I was so saddened by your fathers passing. May your pain eased by the Lords love.
Your wife led a life of grace and selflessness. She deserves to be remembered in the highest regard. May your faith help you to cope with her loss.
No one will ever be able to take the place of your father. He was a wonderful man and I am deeply sad by his passing. May his soul rest in peace.
Everyone who was lucky enough to know your wife was devastated to hear of her passing. We will all be praying for you and your family.
Sending you and your family my most heartfelt condolences for the loss of your husband. I hope you find hope and strength through your faith.
READ MORE: Words of Sympathy for Loss of Father
Christian Sympathy Messages for Loss of a Child
The loss of a child is utterly devastating. In times so hard it's no surprise families would look to their faith for support and strength. Be there for them in whatever way you can as they come to terms with their tragedy.
There is nothing I could say to offer you any comfort at this time. I can only pray that God is with you and that He loves you.
You shouldn't have to go through this alone. Whatever you need we will be there to help. Our deepest sympathy for your loss.
May the Lord help you to see through the grief and pain. Nothing can ever replace your little girl or make her memory fade but may His loving hand touch your heart and offer you strength.
Your little angel has her wings. I can't begin to understand just how you must be feeling but please know I'm here for you.
I am praying for you and your family. You have experienced a loss very few could ever understand and I only hope you find something to offer you hope.
My heart breaks for you. There are no words. Just know how deeply sorry I am.
READ MORE: Words of Sympathy for Loss of a Child
We hope these Christian condolence messages have helped you to offer your sympathy to those of the Christian faith. When we lose a loved one it can be extremely difficult but having the support of friends and family, as well as faith, can help us to find a way through the grief.