'My heart goes out to you' is often used when sending or offering condolences to those who have lost a loved one. It's a touching few words that express your sadness and thoughts to those who are going through such a difficult time.
But even though it's a lovely sentiment you may feel like you want to say more. Perhaps you want something more personal or that better reflects the situation.
For those grieving a loss it helps to know that friends and family are thinking of them. Receiving those messages of sympathy and support will appreciate you spending time to think of more than 'my heart goes out to you'.
So if you are looking for an alternative to 'my heart goes out to you' then the following examples will help you to offer condolences to those mourning with more heartfelt words.
Hopefully they will help you find the words to truly express your sorrow and let you offer them the comfort they need during such a tragic time.
What Can I Say Instead of My Heart Goes Out to You?
I am heartbroken and so sorry for your loss
Sending all my love and sympathy
We are holding you and your family in our hearts
Thinking of you at this sad time and sending my condolences
May warm memories forever remain in your heart
You aren't alone and have all of our support
Reaching out with my love and thoughts
Praying for you during such a difficult time
I can't find the words to show you how sorry I am for your loss
We share in your loss and wish you peace and comfort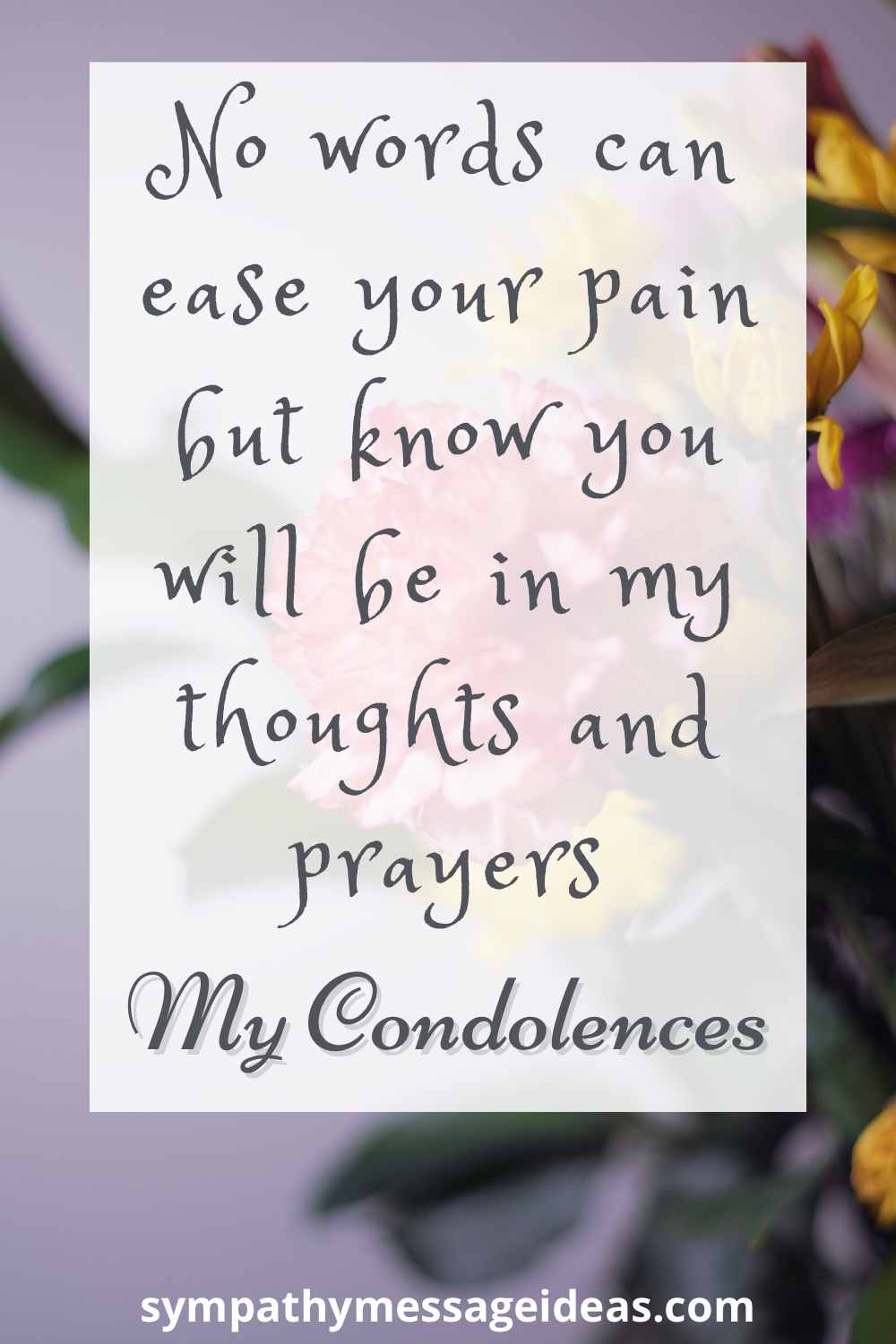 'My Heart Goes Out to You' Alternatives for a Friend
You want to show your support to a friend who has lost a loved one. But finding the words to properly express it can be hard. Say more than "my heart goes out to you" with these alternatives.
My heart is breaking for you
I can't begin to understand how hard this is but I'll always be here for you
With love and my deepest sympathy during for such a tragedy
May their memory be a blessing
May the comfort of friends bring you some peace
Our hearts and prayers are with you
May the love of so many who care about you be a comfort in your darkest moments
Thinking of you and wishing you comfort
READ MORE: Condolence Messages for Friends
Phrases Instead of 'My Heart Goes Out to You' for Family Members
After a family member has lost a loved one you may be finding it difficult to know what to say. These phrases should help with what to say instead of "my heart goes out to you".
A memory is a keepsake of time that lives forever in the heart
No words can ease your pain but know you are very close in my thoughts and prayers
May your memories bring you comfort and strength
Words fall short of expressing my sympathy for you loss
My condolences for losing someone so special
Thinking of you today and keeping you close in my heart
Family will always be there for you
I'm was so sad to learn of your loss. I will be praying for you
For Loss of Parents
You can reach out to those who have lost a parent with these alternative phrases for "my heart goes out to you".
Sharing in your sorrow and thinking of you during such a heartbreaking time
Hoping that friends and family can bring you comfort to get through such a tragedy
May those beloved memories bring you some small comfort
I am praying that you can find peace amongst the pain
We will always make time for you. If there's anything you need don't hesitate to ask
Wishing you hope in the midst of sorrow and comfort in the midst of pain
Never forget how much you are loved
READ MORE: Sympathy Messages for Mom and Words of Sympathy for Loss of Dad
For Loss of a Partner/Spouse
Find the words to comfort someone who lost a partner or spouse with these sympathy messages:
The memories of your loved one will never fade. Hold on to and treasure them
I can't imagine the pain and heartache you're going through. Please accept my sympathy and condolences
It's is unfair and cruel to lose someone so special. You will be in my thoughts and prayers
My words, however kind they may be, can't mend your heartache. But I can and will do everything to help you through this
Within our hearts and in our memories those we love remain with us, always
I will be there for any support you need
Ways to Say 'You're in my Thoughts and Prayers' to a Coworker
We often become very close to our colleagues with all the time we spend together. So if a coworker has lost a loved you can use these messages as something other to say than "my heart goes out to you".
May cherished memories be forever held in your heart
Wishing you love and hope
Sending all my love and thoughts to you and your entire family
Hoping and praying you are coping after the tragedy and pain of losing a loved one
I'm so sorry to hear about your loss. If you ever need to talk I'm always here
May the love of those closest to you help you through the days and weeks ahead
READ MORE: Condolence Messages for Colleagues
'You're in my Thoughts and Prayers' Alternatives for an Acquaintance
It's a touching gesture to offer your condolences to those you don't know well after they have experienced a loss. These alternatives messages should help you reach out to those acquaintances who are dealing with the grief of loss.
Extending our deepest sympathy to you and your family
Hoping you can find peace and some solace amongst the grief to get through the coming days
I am so deeply sorry for your loss and the pain it must be bringing you
My deepest condolences for a truly tragic loss
With my deepest sympathy
What we have once enjoyed we can never lose. All that we love deeply becomes part of us
READ MORE: What to Write in a Sympathy Card
Conclusion
"My heart goes out to you" is an often used phrase but that is because it's a touching and thoughtful way of showing your sympathy and understanding for what someone is going through. The grief and pain of losing someone can be profound so it's helps to know others are thinking of you.
So don't feel bad about using it if you feel it us right. But the alternatives you've just seen can be useful if you prefer something a bit different. Though words are important is much better to be their first those grieving. They will appreciate your love and support far more than the words you use in a sympathy card or message.