Writing a sympathy message for a friend can be even harder than doing so for someone you know less well. You will feel more of a connection to them and the pain they are suffering.
Finding the right words to show your compassion and understanding can be hard. You want your message of condolence to a friend to show them you care and will be by their side as they deal with the grief of losing someone.
I know when I've had to reach out to friends who have lost a loved one I've found it so hard. All I wanted to do was take away their pain and help them feel better.
Sadly I couldn't. But I could be there for them with love, support and words of comfort.
So if you are struggling to come up with the right thing to say to your friend in their time of need then use one of the condolence messages below. They can either give you an idea of what to say or you can just copy the one that you feel represents what you want to say the best.
Short Condolences for a Friend
These short condolences to a friend are perfect for including in a note or sending as a text message when you can only say a little.
Please accept my/our deepest condolences for your loss
I was so shocked to hear the news. You are in my thoughts
Loving thoughts and prayers go out to you
I'm so sorry for your loss. My deepest condolences
I'm here if you need me. My most heartfelt sympathies
You are in my thoughts during this terrible time
You will be in my thoughts and prayers
My heart goes out to you. Condolences for such a tragic loss
Hoping you can find some peace. Stay strong
We are all here for you if you need us. We love you so much
Wishing you find comfort in friends and family
You will be in my prayers. Condolences for your loss
My most sincere sympathies to you and your family
I'm terribly sorry for your loss. They will be sorely missed
You will be in my thoughts as you grieve such an awful loss
I can't express how sorry I am. Just ask and I'll be there for you
I'm praying you find some solace and peace. All my love
Take comfort in friends and family – there is so much love for you
My heart is with you as you grieve this dreadful loss
I'm with you in spirit. Stay strong and remember we will be there for you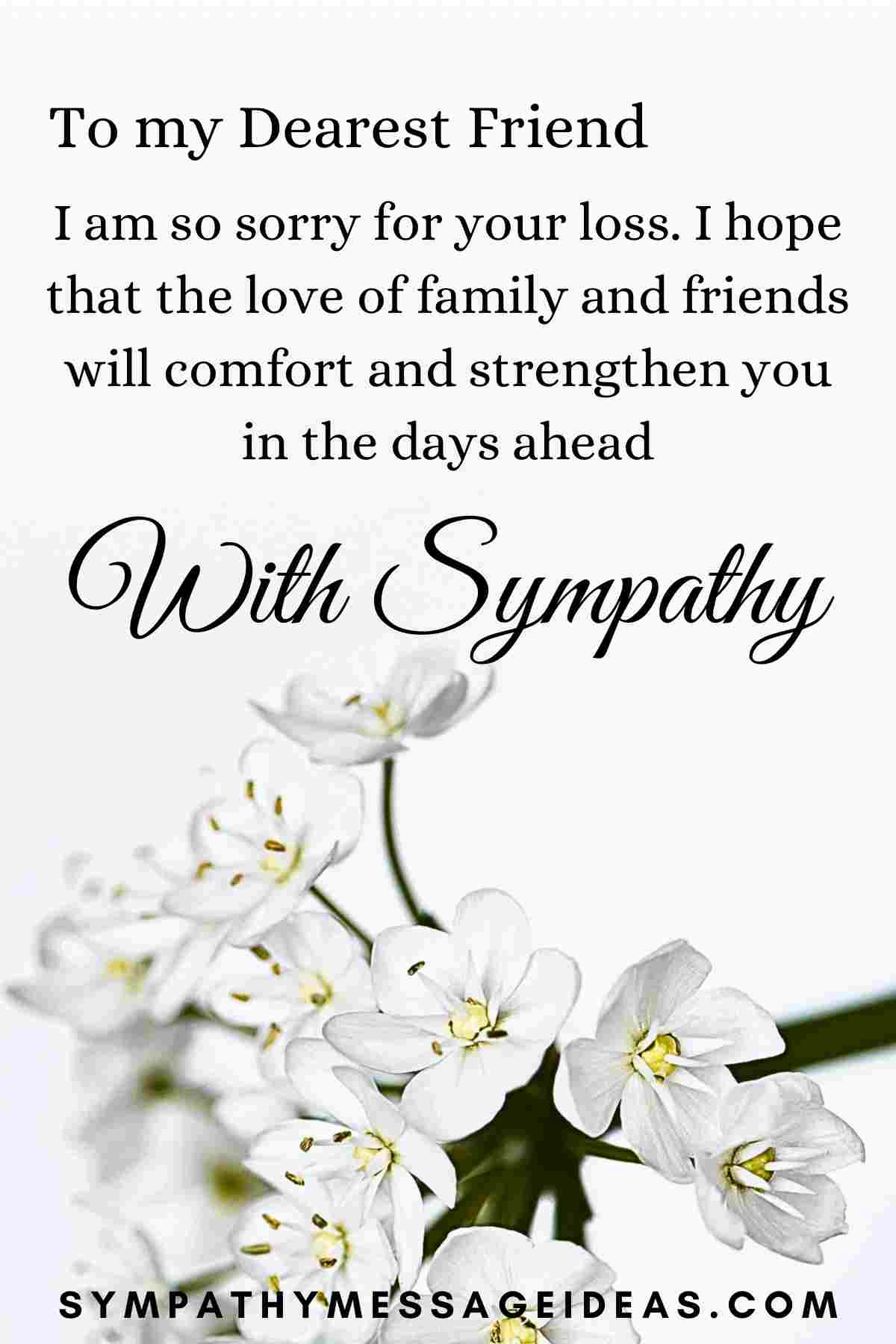 Heartfelt Condolences for a Friend
If you need a longer condolence message to a friend then these examples are ideal for sending a card or saying in person to offer them comfort.
I am so sorry to hear about _______'s passing. I hope that the love of family and friends will comfort and strengthen you in the days ahead.
Through this card, I send my condolences to you and your family my friend for your loss. I hope you get all the support from your family and the strength to get on with life
For you my friend, I offer all my condolence wishes for the untimely loss of your close friend. I pray to the Lord to bless you with the strength to cope up with the loss.
I'm here for you during this dark time, and will be here for you when the light begins to shine for you again
Remember ________'s stories, and how they made you feel; by doing that, part of _______ will always remain with you
Words, however kind, can't mend your heartache, but those who care for you share your grief and wish you comfort and peace of mind
Although no words can really help to ease your loss, know that you are in my thoughts
I cannot take away your pain, but I can listen if you'd like to talk about it
I'm sorry. I know those words are inadequate, but I am truly sorry for what you're experiencing right now. Please let me know if there's anything I can do to help
Wishing you peace and strength during this difficult time
Please remember that I am here to help however I can
I know loss can be difficult, so I'll be thinking of you and keeping you in my prayers
Condolence Messages for a Friend who Lost a Mother
These messages of condolence should express how sorry you are for their loss if your friend has lost their mother.
Your mom was a truly special person who will be missed dearly. I'm so sorry for your loss
I know how close you were to your mom. She is irreplaceable. You will be in my thoughts
The loss of a parent is heartbreaking and I just wanted you to know I'm here for you if you need me
I can't imagine how hard this is for you but I just wanted to let you know how sorry I was to hear of your loss
We will only have special memories of the wonderful person your mom was. You have my deepest sympathies
Condolence Messages for a Friend who Lost a Father
The loss of a father is devastating. Be there for your friend with these thoughtful words.
You will be in my prayers and thoughts as you grieve the loss of your amazing dad
I just heard the devastating news. Your father was an incredible man and will be missed by so many. My deepest condolences
I was lucky enough to know your dad well and the impact he had on so many people. We've lost a very special person. Please accept my most heartfelt sympathies
I know how difficult this must be for you so if you need me for anything don't hesitate to ask. I'm so sorry your your loss
Your father was a giant amongst men and will leave a huge hole in many people's lives. None more so than your own though, and I will be thinking of you as you grieve
We hope these condolence messages for friends have helped you to be there for a loved one in their time of need. Losing someone special is always heartbreaking so having friends around you who offer their support is so important.