Losing a pet can be just as hard as losing a friend or member of the family. They become incredibly special to their owners, and the loss will have a long and deep affect on them.
So when it happens, sending sympathy or pet condolence messages can be the most appropriate thing to do. However, finding the right words can be difficult. Especially when you are trying to judge the impact the loss has had on their lives.
What to Write when Someone Loses a Pet
If you're unsure of what to say in a card when a pet dies then follow these guidelines.
Begin by saying how sorry you are for their loss – I was so sorry to hear about your furry friend. I know how special he was to you
Maybe reminisce on their memory or talk about how loved they were – he was such a lovely boy and a friend to everyone he met
Ask after the owner to make sure they're coping – I hope you're doing ok
Offer any support you can – If you need anything, or just someone to listen, I can be there
Finish with "my condolences", "deepest sympathies" or a variation of those and sign it.
You don't have to follow those steps to the letter. But they should hopefully give you an idea of the type of message you can say or send.
If you are still struggling then you may want to use the pet condolence and sympathy messages below. They can either give you a guide and some ideas of what to write, or pick the most fitting one and use it in your pet sympathy card.
Pet Loss Quotes
Our pets never really leave us. They live on in memories ofthe love and devotion they gave us.
Our treasured friends bless our lives and give us more love than we ever knew possible. May fond memories of __________ bring peace and comfort to you.
To lose a true friend is never easy.
 Know that you're in our/my thoughts.
At first they need us, and then we need them.
 Wishing you comfort and peace during this difficult time.
In this tragic moment, perhaps you could celebrate the life of your beloved animal friend and allow the happy memories to help soothe your grief and mourning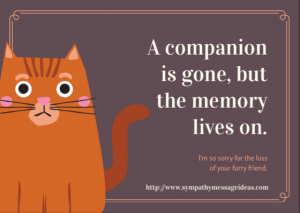 The heart remembers most what it has loved best. May fond memories comfort you and bring you peace.
It's hard to say goodbye to such a special companion.
 My thoughts are with you.
In this tragic moment, we must celebrate the long life lived by your beloved pet, instead of letting those happy memories fade away in mourning
Of all the words used to describe _________, there is truly only one – Irreplaceable.
SEE MORE: 24 Touching Pet Loss Poems
Extending deepest sympathy for you in your loss. And hoping, too, that comfort and peace may come to you.
May fond memories of your beloved pet warm your heart always.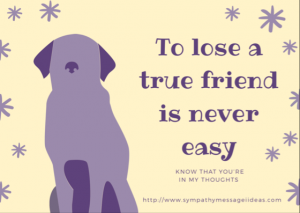 Although no words can help to ease the loss you bear, just know that you are very close in every thought and prayer.
Treasured friends like your furry companion are missed by all when they pass on, and their fond memories live on forever in our hearts. Wishing you comfort and peace in your time of need.
I know words do little to ease the pain you feel when such a lovely pet passes on. Keep the memories close to your heart and know that I'm keeping you in mine.
Some pets are friends. Others are family. The loss of an amazing dog can't be easy, and I'm here if you need comforting in this time of grief
I'm deeply sorry to hear about the loss of your friend and pet. They were certainly a gift from above. I am so sorry for your loss.
Life is short, and the loss of a pet serves to remind us of how precious our time here truly is. I'm sorry to hear about the loss of such a wonderful pet.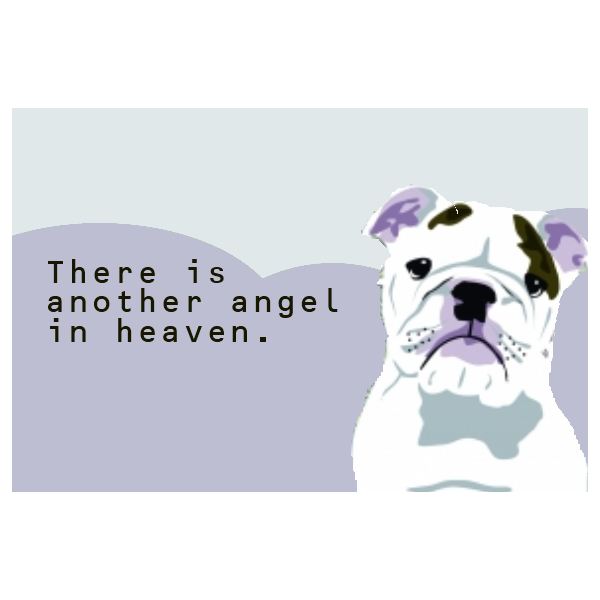 I was so sorry to hear of the passing of your beloved pet. His endearing spirit and loveable nature will never be forgotten. My deepest condolences
SEE MORE: 57 Heartbreaking Dog Loss Quotes
You are in my thoughts and prayers during such a difficult time. I know that he/she meant the world to you. If I can help in any way then please don't hesitate to reach out
We will always remember your loveable boy/girl. They were more than just a pet and their loss will be so hard to take. You have my most sincere sympathy
Wishing you so much love and strength to get through this loss. Dog's so often become our best friends and I know how much yours meant to you. Stay strong
We are given the gift of pets but unfortunately they are taken away far too soon. I am so terribly sorry for your loss
Our pets leave imprints, or paw prints on our hearts that we can never forget. My most heartfelt condolences for your loss
I am so sorry for your loss. _____ was the most loving and friendly dog/cat/pet anyone could hope to have. May the wonderful memories you have sustain you through this terrible time
I can only express my sincerest condolences for such a devastating loss. _______ touched all our hearts and shall never be forgotten. May he/she rest in peace
You are in all our hearts as we mourn the passing of ______. She was a one of a kind and we were blessed to have had her in our lives. Sending my warmest thoughts and deepest sympathy
Image: brighthub.com