Sending or writing condolences is an incredibly hard thing to do. You have to try and find the words to show how sorry you are for losing someone special to them.
And let's be honest – what words could possibly hope to do that? It is impossible to think a few sentences expressing your sadness for someone's loss and letting them know you're thinking of them could alleviate any pain and anguish they're suffering.
But that doesn't mean it isn't worthwhile. Whilst you can't stop the pain and grief that losing someone brings, your words and the kindness you show will have more of an impact than you realise.
Which is why we offer our condolences, show sympathy and be there for those mourning a passed loved one.
So if you're feeling nervous and aren't sure about the etiquette surrounding condolences then keep reading. We're going to go through how to write them, who they're for, what to say, when to send them and where, and much more.
What does Condolences Mean?
Sending condolences is when you express your sympathy for someone's loss. You send your condolences by offering sympathy and kind words to comfort them after losing a loved one. It shows you are thinking of and care about them as they mourn and grieve the loss of someone special.
Condolence or Condolences: Which is Correct?
Both are acceptable but the plural of the word – 'condolences' – is the much more commonly used term. You would probably say "please accept my deepest condolences" rather than "please accept my deepest condolence". Condolences are like feelings – you have more than one, so we say and write it that way.
When to Send Condolences
You should try to send your condolences as quickly as you can. So send some flowers, a card or condolence message as soon as you learn of the death of their loved one. If you know when the funeral is then you can also send a card or note a few days before that as well.
If for some reason you are unable to send your condolences at the time of the passing then you can still do so at a later date. A late message is better than none.
For examples of what to say if you're late with your message and the etiquette around it try our belated condolence messages.
Who Do you Say My Condolences to?
If you are sending a condolence message or card for someone you knew well but didn't know their family then you should send it to the closest relative to the deceased. So their children or widowed partner.
If you are sending your sympathy card to the grieving family but didn't know the deceased then you address it to them rather than whoever it was that passed away.
How to Send a Condolence Message
There are different ways you can send condolence messages:
The most usual is in a card, either on it's own or with flowers/a gift. Condolence or sympathy cards can be bought in many places, both in store and online, or you could send an eCard. Whichever you choose there will be space or the option to include a condolence message
A note or letter is also an acceptable way of sending your condolences. This will usually be longer than a simple sympathy message and possibly include more personal details or memories of the deceased
You can also send a condolence email. An email is a good choice for different types of people that aren't your close friends or family – your boss, for example
A text message may seem impersonal but as everyone uses their phones so much and texts for most things it's not seem as being unusual or rude. If you can then a card or letter is preferable but if there's no other option then a text is acceptable
Facebook is used to by virtually everyone nowadays so sharing a message of sympathy on there is also a good way to reach someone you don't know that well
And of course you can always offer your condolences in person
MORE READING:
Appropriate Phrases to use as Condolences
I am so sorry for your loss
My deepest condolences to you and your family
You are in our thoughts and prayers
You have my most sincere sympathy for your tragic loss
My heart aches for you. I am deeply sorry
[names] memory will live on in our hearts, forever
My heartfelt sympathy for such a terrible loss
If there is anything I can do to help just let me know. I will be there for you
[name] will be remembered so warmly by us all
I just wanted to reach out and say I'm thinking if you during such a difficult time
MORE READING: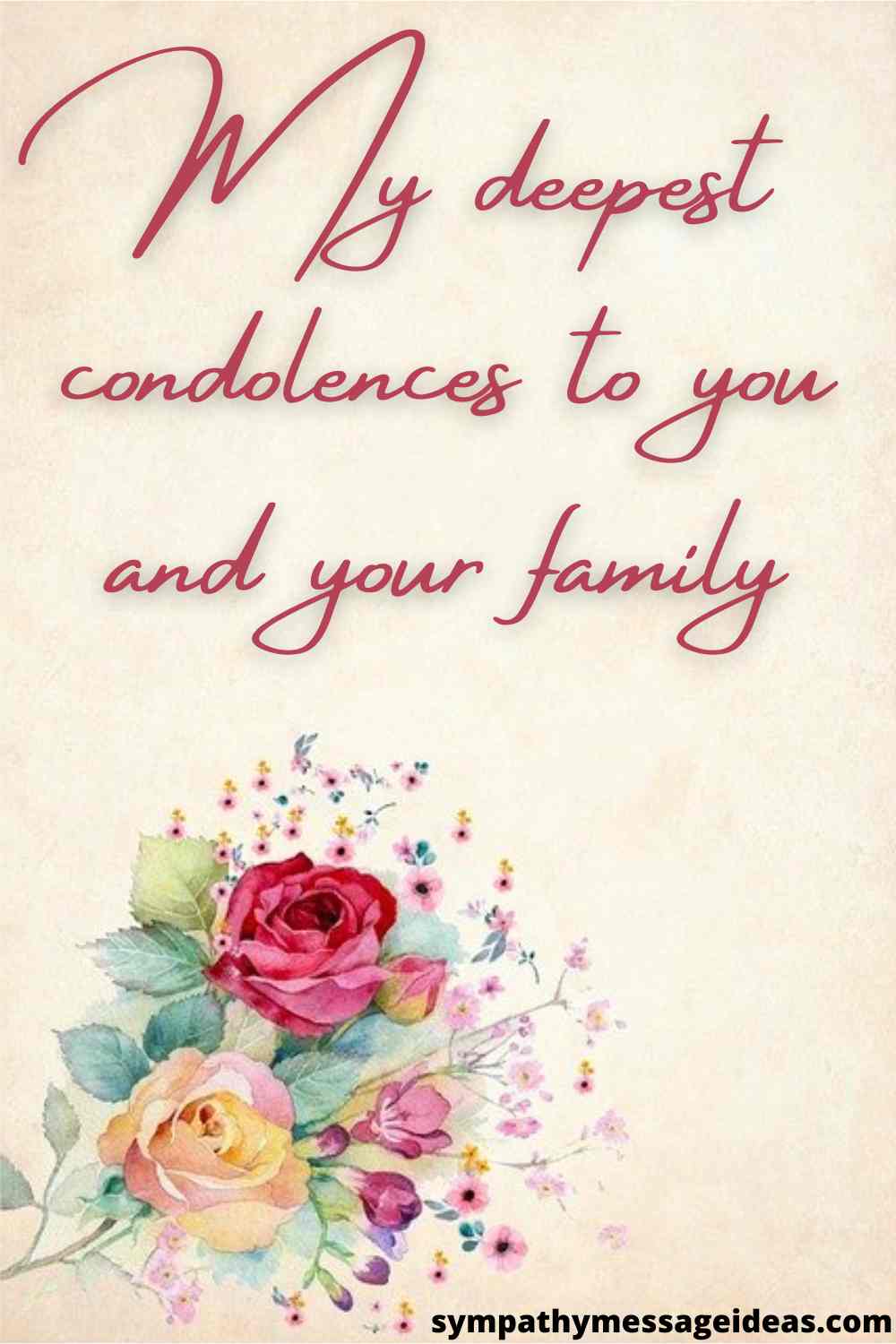 Can you Say Deepest Condolences
Yes. If you are trying to find the right words for a condolence message then saying something like please accept my deepest condolences for your loss is a good choice of words to comfort someone.
How Late can you Send a Condolence Card
It is never too late to send a condolence message or card to show someone you are thinking of them after a loss. Yes, it's preferable to do it as soon as you can but it's better to express those feelings belatedly rather than say nothing at all.
Do you Put Kisses on a Condolence or Sympathy Card
Yes, you definitely can do so if you think it's appropriate and you know the recipient or family well. If they are more like acquaintances then you may think it a little too informal or inappropriate considering you aren't close. Use your judgement on each case.
Is it Appropriate to Send Money in a Condolence Card
Giving money or a donation with a condolence card is a very thoughtful gesture. Sometimes people give charitable donations on behalf of the deceased or money to the family to help with the funeral costs. Whatever you choose you can include a short message letting the family know the money is for wherever they see fit.
You shouldn't feel pressured into including money with your condolences but if you can, and you feel it's appropriate, then it is a lovely thought and will no doubt be appreciated.
Do you Send Thank You Cards for Condolences
When you receive a sympathy or condolence card it is polite to reply or respond with a thank you note. This is especially true if someone has helped in some way, be that sending a gift or flowers, a donation or assisted with the funeral, for example.
Is Condolence only used for Death
The word condolence and it's meaning can be used for anything where someone is suffering. It is an expression of sympathy and while mostly used when someone has suffered a loss it is also suitable when someone is unwell, lost their job or a relationship has ended. When you use it you are showing understanding of their situation and empathy, sharing in their pain.
For some examples of condolences being used other than for the death of someone see these articles:
Conclusion
Sending your condolences is a kind gesture when someone has suffered a loss. But it can be fraught with difficult manners and etiquette to navigate.
It's no surprise many of us feel nervous about what to say and how to say it. Hopefully this guide will have answered any questions you have and made you a lot more comfortable when reaching out to friends or family to offer your condolences.